Irish wildflowers




Photographs: Ballingeary, Co. Cork

Heath Spotted-orchid
Dactylorhiza maculata
Na circíní
Family: Orchidaceae

Flowering time: June-August. Perennial. Native.

Pale pink flowers with purple streaks and spots. Lip shallowly 3-lobed, central lobe shortest. Leaves usually spotted but unspotted leaves also occur. Solid stems. Very variable in colour and size. Height 15-45 cm. Usually begins flowering approx 2 weeks before Common Spotted-orchids.

Locally frequent on acidic heaths, bogs, and grassland.

Similar: Common Spotted-orchid, Dactylorhiza fuchsii. Central lobe longest. Found on calcareous or neutral soils.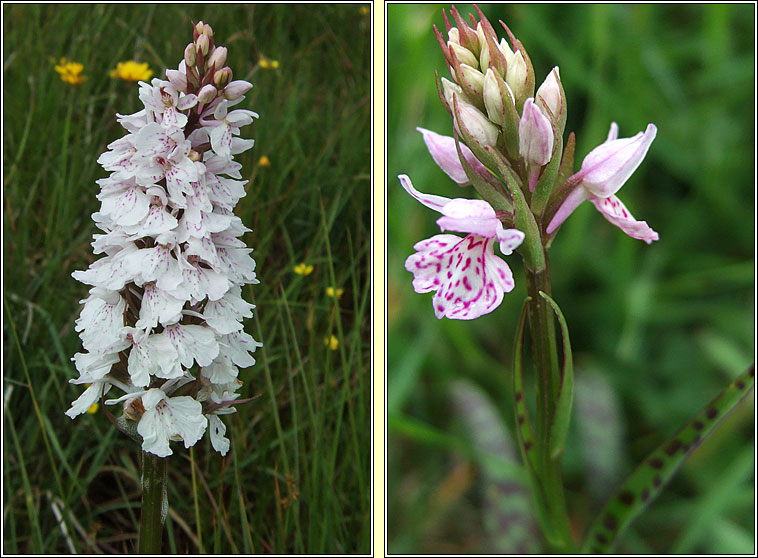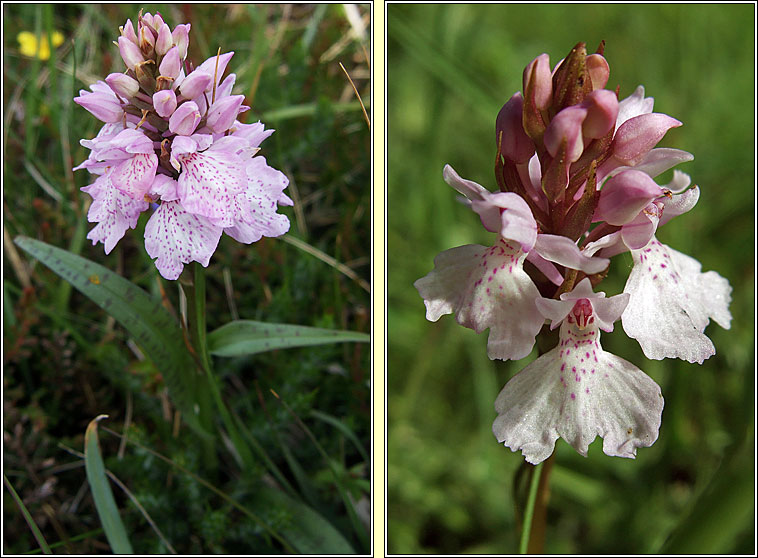 Heath Spotted-orchid, Dactylorhiza maculata, Na circíní

N.B. Identification between Common Spotted-orchid, D. fuchsii and Heath Spotted-orchid, D. maculata can be very difficult though Common Spotted-orchids are normally on calcareous or neutral soils, Heath Spotted-orchids on acidic ground.
"There is evidence suggesting that Spotted-orchids on intermediate soils tend to be intermediate in appearance." Ref. 'Orchids of Britain and Ireland' by Anne and Simon Harrap