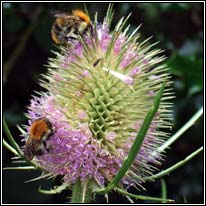 Photographs: Co.Cork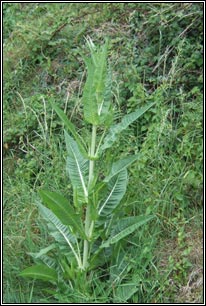 Teasel
Dipsacus fullonum
Leadán úcaire
Family: Dipsacaceae

Flowering: July-August. Biennial. Native / introduced.

Dense heads of small pink-mauve flowers with spiny linear bracts below.
Leaf rosette of lanceolate prickly leaves in first year. Second year tall,
erect, very prickly flowering stem with narrow leaves, prickly underneath.
Height: To 2m

Prefers clay soils, roadsides, rough grassland, waste ground, wood edges.
Scattered distribution, native some areas, probably introduced in others.