Irish wildflowers




Photographs: Co.Cork





Butterfly Bush / Buddleja
Buddleja davidii
Tor an fhéileacáin
Family: Buddlejaceae

Flowering time: June-October. Deciduous shrub. Garden escape.

Panicles of scented lilac-purple flowers, very occasionally white.
Grey-green lanceolate leaves, white and downy beneath. Height to 5m.
Known as Butterfly Bush, but can shade out native butterfly food plants.

Dry, disturbed ground. Waste ground, quarries, roadsides, walls.
Often found on disused ground in urban areas.
Naturalised garden escape.

Butterflies: top left: Tortoiseshell, bottom left: Silver-washed Fritillary, centre: Peacock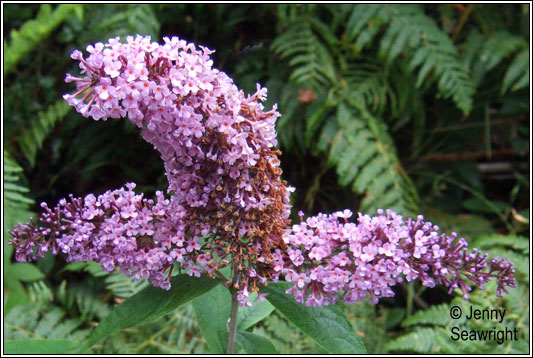 Photograph above: Near Inishshannon, County Cork.