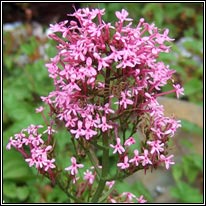 Photographs: Macroom, Co.Cork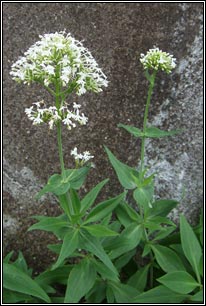 Red Valerian
Centranthus ruber
Slán iomaire
Family: Valerianaceae

Flowering: May-September. Perennial. Introduced. Garden escape.

Red, pink or white flowers in dense, elongated terminal panicles. Blue-green or grey-green un-toothed leaves, opposite, undivided. Upper leaves stalkless.
Erect, slightly fleshy, hairless plant. Branched stems. Height: 40-70cm

Locally abundant. Garden escape now naturalized in most parts of Ireland on dry, sunny walls, cliffs and rocks, sandy waste ground. Originally from the Mediterranean.