Irish wildflowers










Ivy-leaved Toadflax
Cymbalaria muralis
Buaflíon balla
Family: Scrophulariaceae

Flowering time: May-September. Perennial. Introduced.

Solitary lilac-mauve flowers with yellow patch on lower lip. White-flowered forms can occur. Wrinkled seeds. Leaves 5-lobed, ivy-shaped, green with purple tinge. Hairless. Stems weak, trailing or creeping, rooting at nodes. Spread: 10-30cm

Very frequent. Found in cracks on old walls, pavements, occasionally on rocks.
Garden escape.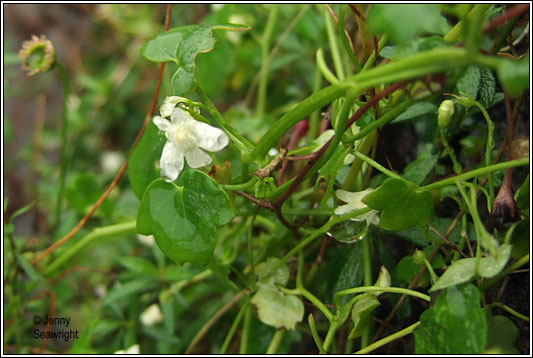 White-flowered Ivy-leaved Toadflax. Cork City. December 2007