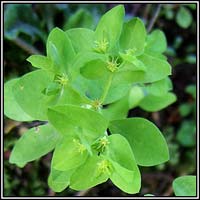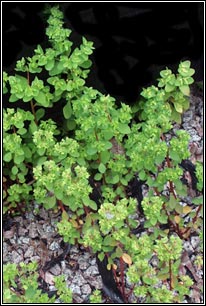 Petty Spurge
Euphorbia peplus
Gearr nimhe
Family: Euphorbiaceae

Flowering time: April-November. Annual. Probably introduced.

Yellow-green 3-rayed umbels containing minute glands of crescent-shaped flowers. Leaves are stalked, untoothed and alternate. Hairless, upright. Height: 5-25cm.

Very common in gardens, wasteground, arable land, roadsides, pavements.

Similar: Sun Spurge, E. helioscopia. Larger, 5-rayed flower umbels.
Probably introduced.